Emperor's Challenge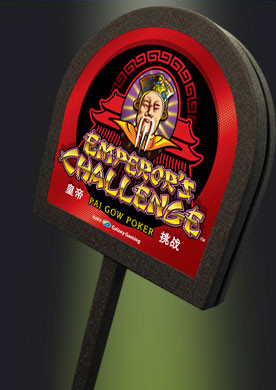 Emperor's Challenge is a Pai Gow Poker variant designed for all table game pits and is offered 100% commission free. Players are pleased to find familiar betting patterns along with enhancements that give more power to the player.
Players are dealt seven cards to make their best pai gow poker hand to play against the dealer's best pai gow poker hand.
How to Play
Players must place their bet and any additional side bets to begin the game. Additional side bets include the Pai Gow Insurance and Emperor's Treasure wagers. After all initial wagers are made, both the player and the dealer each receive seven cards. The player and the dealer will each set their pai gow poker hand by making one 2-card hand and one 5-card hand. The player's hand is compared to the dealer's hand and any side bets are reconciled.
Side Bets
Pai Gow Insurance – wins odds if the player's hand is a Pai Gow (a hand that does not contain a Pair or better).
Emperor's Treasure – wins odds according to the posted pay table and includes an Envy Bonus when the player wagers $5 or more.