Leadership Team
Todd P. Cravens
President and Chief Executive Officer
Mr. Cravens was most recently the CEO of the Americas for TCS John Huxley for the last three and a half years. With over 25 years of experience in the amusement and gaming industries, including executive positions at American Gaming Systems (AGS) and Betson Enterprises, Mr. Cravens is well respected in the gaming industry for his team-building skills.
Harry C. Hagerty
Chief Financial Officer
Mr. Hagerty has had a long career in finance and the gaming industry. He served as investment banker covering the gaming and lodging industries and was CFO of Caesars Entertainment, Inc. and Global Cash Access Holdings, Inc., both NYSE-listed gaming companies. He was a founder of and currently serves as an officer and director of Sightline Payments, LLC, an innovator in payment systems for gaming companies.
Robyn Brewington
EVP of Sales and Marketing
Ms. Brewington joined Galaxy Gaming in 2018, bringing with her a wealth of experience in Sales and Marketing management. With over 22 years of leading high performing sales teams and creating dynamic marketing organizations in the financial services, gaming and large format industries, Ms. Brewington is a welcome addition to the Galaxy Executive Team.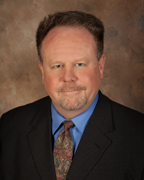 Bruce Benson
General Counsel
Mr. Benson brings over 30 years of experience in broad based legal, transactional and business management. With experience in areas of intellectual property, technology licensing, brand development, internet businesses, securities, gaming regulatory/compliance matters and litigation. Mr. Benson is well respected throughout the gaming industry.
Tim C. Caffarelli
Chief of Technology and Innovation
Tim has more than 10 years of experience in developing products for many industries. Originally from New York, Tim grew up in the city and developed an interest in engineering. He earned a Master of Electrical Engineering from Syracuse University and a Master of Business Administration from DePaul University in Chicago. A veteran of the armed forces, Tim began his career as an engineer in the defense industry working on radar systems. He later transitioned into the telecommunications industry where he held various senior level positions in both engineering and marketing. His experience includes leading engineering and product management teams for Systems and Slot products for Class III, Class II and Lottery jurisdictions worldwide. Tim's extensive background in the engineering industry, ability to manage and lead, and his knack for innovative technologies make him a valuable asset to not only the Galaxy team, but the leadership team as well.